CHICAGO, IL (August 22, 2014) — Entering his final year of teaching at North Park Theological Seminary, Klyne Snodgrass, Paul W. Brandel Professor of New Testament Studies, will deliver the message at the school's convocation service in Isaacson Chapel at 9:15 a.m. (central) Monday.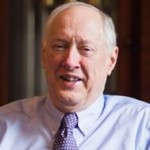 Snodgrass will preach on "Pursuing and Doing Truth." He has helped students do that since he started teaching at the school four decades ago in 1974.
The service is open to the public and also will be webcast live at CovChurch.tv and northpark.edu. It also will be available for later viewing.