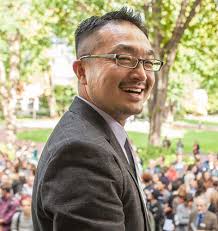 CHICAGO, IL (August 18, 2016) — The latest issue of the Covenant Quarterly is now online and focuses on immigration and civil rights. Articles may be downloaded.
Bo Lim, university chaplain and associate professor of Old Testament at Seattle Pacific University and Seminary, writes on "Exile and Migration: Toward a Biblical Theology of Immigration and Displacement," which originated in the 2015 Nils W. Lund Memorial Lectureship at North Park Seminary.
Recent seminary graduate Ramelia Williams surveys points of Covenant engagement in the civil rights movement, 1963–1968, at the denominational level and through two congregational case studies: Community Covenant Church in Minneapolis, Minnesota, and North Park Covenant Church in Chicago, Illinois.
Williams references a 1963 sermon preached by North Park's pastor Douglas Cedarleaf. The text follows the article.
That sermon is paired with a 2015 sermon, "Watching, Not Waiting: A Sermon for the First Sunday of Advent," preached by Catherine Gilliard, pastor of New Life Covenant Church in Atlanta, Georgia.
The issue closes with a "Statement on Race and the Justice System" by North Park Seminary faculty, released February 2015.
Hauna Ondrey offers an overall introduction to the issue.
The Covenant Quarterly is the ministerial journal of the denomination and is published by Covenant Publications through North Park Theological Seminary. It is available to ministers and laity. Readers are invited to participate in discussion on the Covenant Quarterly Forum site.